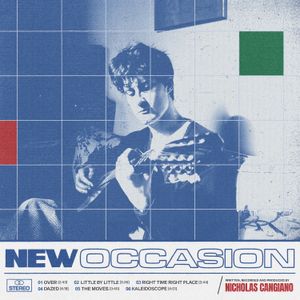 Nicholas Cangiano is a Montreal-based multi instrumentalist who's bringing soul back into pop music. 
His eclectic sound pulls you into his world as a self made musician. It's a world where anything goes here, the peculiar is encouraged, and you're enticed to let down your guard and come as you are. 
Originally from Sudbury, Ontario, Nicholas packed a suitcase and moved to Montreal at 19 years-old to immerse himself in the blooming bedroom indie-pop scene that was emerging in the cheap eclectic housing of Montreal. What began as a busking venture around Montreal's Old Port, has now led Cangiano's music being spun on airwaves and playlists across Canada and the U.S. The talented multi instrumentalist is bringing the soul of late night, back alley curiosity to a pop sound filled with brilliance.
The release of New Occasion (released October 2022 via Favourite Library) helped bring attention to Nicholas on the Canadian music scene with features on Spotify's Fresh Finds, Fresh Finds Indie, along with the lead single Kaleidoscope being added to rotation on CBC's Afterdark.
Cangiano is working on a follow up to New Occasion and tour dates to be announced in 2023.
New Occasion (Deluxe)
Stream the debut album from Nicholas Cangiano